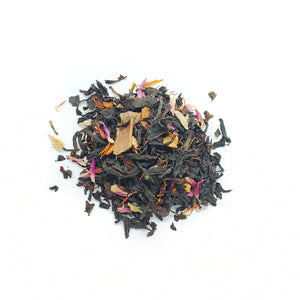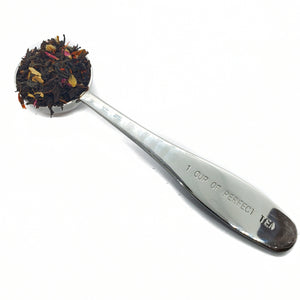 FROSTY PLUM SPICE - Black Tea
Regular price
$13.15
Sale price
$10.00
---
CUP CHARACTERISTICS: Wow! Sweet pear and plum notes with a frozen ice wine finish.
INGREDIENTS: Black tea, Apple pieces, Cinnamon, Ginger, Cloves, Amaranth + Safflower petals, Natural flavours (organic compliant).
For many of us, when we hear the word "heirloom", we think of treasured pieces of antique furniture, well-worn gold watches or hand-me-down diamond rings. For others, tea lovers in particular, "heirloom" naturally forms part of the term "heirloom recipe", and takes on a much more gastronomical meaning. So, why are we talking about heirloom recipes? Good question. The answer is that this blend, Frosty Plum Spice, was created by our Master Blender in homage to an old family recipe passed down by his Dutch ancestors. Legend has it that his grandmother, or Oma, having grown up on an orchard back in the old country, developed a recipe for spiced plum tarts as a way to use up fruit leftover from market day in the nearby village.
So how does the old recipe hold up as a tea? There's only one way to find out, which is to taste it, which we've done extensively. Our verdict? Lekker! (That's "delicious" in Dutch.) The blend offers lengthy notes of fruit, tempered by natural cinnamon and ginger to brew a cup that can be enjoyed hot on cold winter's days, or chilled over ice on a hot summer's morning. Either way, brew a pot today and raise a cup to the days and recipes of yore. Proost!
What type of tea do we use, how do we flavour the tea and why do we use natural flavours?
Firstly... we only use high grown teas from the top 3 tea growing regions of Sri Lanka - Nuwara Eliya, Dimbula and Uva. These three high-grown districts produce flavourful teas that have classic 'Ceylon' tea character which is noted by floral bouquet and flavour notes, touches of mild astringency, bright coppery colour and, most importantly - perfect for use as the base tea of our flavoured teas. (We have tested teas from various other origins around the world as base stock for our flavoured teas, but none of these teas made the grade.) Dimbula and the western estates of Nuwara Eliya have a major quality peak during Jan/Feb, whereas Uva and the eastern estates of Nuwara Eliya have their peak in July/Aug. This 'dual peak period' allow us to buy the best for our flavoured tea blends several times during the year, ensuring top quality and freshness.
Secondly... we use flavouring oils not crystals to give the tea drinker an olfactory holiday before indulging in a liquid tea treat.
Thirdly. we specify natural flavours. High quality tea tastes good and natural flavours do not mask the natural taste of the high grown Ceylon tea. (The norm for many making flavoured tea is to use overpowering artificial flavours, which can be used to hide lower quality tea). Natural flavours do not leave an aftertaste giving the tea a clean and true character. It should be noted that natural flavours tend to be somewhat 'soft ' and the flavours slightly muted, but for many this is a refreshing change and one of the desired attributes of our naturally flavoured teas.