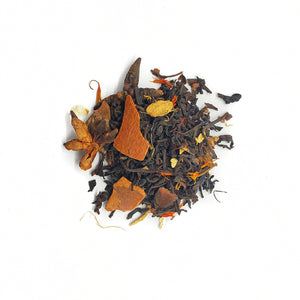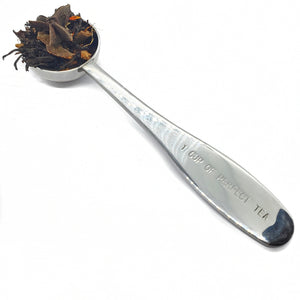 GERMAN GINGERBREAD - Black Tea
Regular price
$13.15
Sale price
$10.00
---
CUP CHARACTERISTICS: Lusciously ginger and sweet cinnamon. Think of Christmas markets in Hamburg and the aromas, the laughter, the enjoyment.
INGREDIENTS: Black tea, Cinnamon, Star anise, Cocoa beans, Ginger, Safflower petals, Camomile white, Natural flavours(organic compliant).
No known or claimed sources of food allergy or intolerance.
How seriously does Germany take its gingerbread? Seriously enough that in 1643, the city of Nuremberg recognized the profession of baking gingerbread (known in German as Lebkuchen), and created an official guild entitled the "League of Lebkuchen Bakers". Two years later, in 1645, the league went on to develop a code of strict guidelines commercial bakers had to follow in order to legally bake and sell their creations in local markets. Suffice it to say, they take their gingerbread extremely seriously.
If you've ever tasted German gingerbread, you'll quickly understand why it ever demanded such scrutiny. You'll also understand why it continues to demand such hoopla. Simply put, it's wunderbar. To this day, many bakeries in Germany guard their gingerbread recipes, practically on pain of death.
Luckily, our Master Taster was able to persuade a Nuremburg baker to provide him with his list of ingredients we used to develop the all-natural flavour for this exquisite Flavoured Black German Gingerbread tea. Bright in the cup and brimming with spicy gingerbread notes, this tea will have you saying ja bitte (yes, please) in no time.
What type of tea do we use, how do we flavour the tea and why do we use natural flavours?
Firstly... we only use high grown teas from the top 3 tea growing regions of Sri Lanka - Nuwara Eliya, Dimbula and Uva. These three high-grown districts produce flavourful teas that have classic 'Ceylon' tea character which is noted by floral bouquet and flavour notes, touches of mild astringency, bright coppery colour and, most importantly - perfect for use as the base tea of our flavoured teas. (We have tested teas from various other origins around the world as base stock for our flavoured teas, but none of these teas made the grade). Dimbula and the western estates of Nuwara Eliya have a major quality peak during Jan/Feb, whereas Uva and the eastern estates of Nuwara Eliya have their peak in July/Aug. This 'dual peak period' allow us to buy the best for our flavoured tea blends several times during the year, ensuring top quality and freshness.
Secondly... we use flavouring oils not crystals to give the tea drinker an olfactory holiday before indulging in a liquid tea treat.
Thirdly. we specify natural flavours. High quality tea tastes good and natural flavours do not mask the natural taste of the high grown Ceylon tea. (The norm for many making flavoured tea is to use overpowering artificial flavours, which can be used to hide lower quality tea). Natural flavours do not leave an aftertaste giving the tea a clean and true character. It should be noted that natural flavours tend to be somewhat 'soft ' and the flavours slightly muted, but for many this is a refreshing change and one of the desired attributes of our naturally flavoured teas.