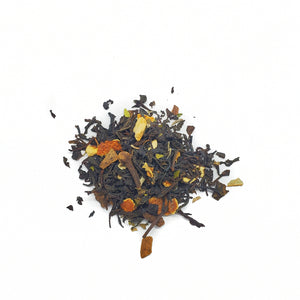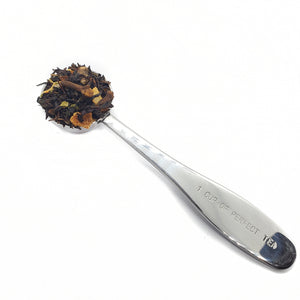 HOLIDAY WINTER SPICE - Black Tea
Regular price
$12.50
Sale price
$10.00
---
CUP CHARACTERISTICS: Blustery and windy notes of cinnamon abound. Sweet citrus finish.
INGREDIENTS: Black tea, Cinnamon, Orange pieces, Lime + Blackberry leaves, Cloves, Natural flavours(organic compliant)

."The sweeping blast, the sky o'ercast, The joyless winter day
Let others fear, to me more dear, Than all the pride of May:
- Robert Burns (1781)

Sweeping blasts o'ercast skies winter, you love it or you hate it. By the sounds of it, Robert Burns loved every frozen minute of it. We can't say we feel the same way, but we do love spicy winter warm up beverages. On a freezing afternoon or evening, there's nothing like curling up in front of a roaring fire with your hands wrapped around a hot mug of spicy winter goodness. This fabulous blend of cinnamon, cloves, dried fruit, herbs and spices is sure to get your taste buds fired up and your mind dreaming of warmer climes. On the nose, delightful notes of thick spice delight while the cup offers cinnamon, pepper and hints of mild citrus. Joyless winter day? Bring it on!

What type of tea do we use, how do we flavour the tea and why do we use natural flavours?
Firstly... we only use high grown teas from the top 3 tea growing regions of Sri Lanka - Nuwara Eliya, Dimbula and Uva. These three high-grown districts produce flavourful teas that have classic 'Ceylon' tea character which is noted by floral bouquet and flavour notes, touches of mild astringency, bright coppery colour and, most importantly - perfect for use as the base tea of our flavoured teas. (We have tested teas from various other origins around the world as base stock for our flavoured teas, but none of these teas made the grade.) Dimbula and the western estates of Nuwara Eliya have a major quality peak during Jan/Feb, whereas Uva and the eastern estates of Nuwara Eliya have their peak in July/Aug. This 'dual peak period' allow us to buy the best for our flavoured tea blends several times during the year, ensuring top quality and freshness.
Secondly... we use flavouring oils not crystals to give the tea drinker an olfactory holiday before indulging in a liquid tea treat.
Thirdly, we specify natural flavours. High quality tea tastes good and natural flavours do not mask the natural taste of the high grown Ceylon tea. (The norm for many making flavoured tea is to use overpowering artificial flavours, which can be used to hide lower quality tea). Natural flavours do not leave an aftertaste giving the tea a clean and true character. It should be noted that natural flavours tend to be somewhat 'soft ' and the flavours slightly muted, but for many this is a refreshing change and one of the desired attributes of our naturally flavoured teas.